Monika Fleischmann é alemã, artista e cientista investigadora das mídias, além de ser curadora de arte midiática. Trabalha com Cultura Digital e Mídia do Conhecimento no Fraunhofer IAIS - Instituto de Análises Inteligentes e Sistemas de Informação, em Sankt, em Augustin, na Alemanha. É Professora de Teoria das Mídias e de Mídias Interativas na Bremen University of Applied Science e é membro do conselho de ARTE MIMA na MIMA University (Munich Institute of Media and Musical Arts).
Wolfgang Strauss é alemão, arquiteto, mídia artista e cientista. É pesquisador em artes em Fraunhofer IAIS - Instituto de Análises Inteligentes e Sistemas de Informação, em Sankt Augustin, na Alemanha e desde 2009 é professor convidado de Interação Experimental no Master de HCI,  na Universidade de Siegen. Desde 1987, Wolfgang Strauss trabalha em parceria com Monika Fleischmann em instalações de arte mídia e no conceito de interatividade.
Como citar esse texto: FLEISCHMANN, M., STRAUSS, W. PASSAGENS DE ENERGIA - FLUXO DE DADOS COMO ESPAÇO PÚBLICO LINGUÍSTICO E ARTE MÍDIA INVESTIGATIVA. V!RUS, São Carlos, n. 9 [online], 2013. Traduzido do Inglês por Gilfranco Alves . Disponível em: <http://www.nomads.usp.br/virus/virus09/?sec=3&item=1&lang=pt>. Acesso em: 19 Ago. 2019.
Resumo
Este artigo descreve e teoriza o projeto arte media "Energie-Passagen" [Passagens de Energia], que é uma visualização interativa de notícias diárias no espaço público. A informação, produzida por um grande jornal diário é semanticamente analisada e gerada como uma estrutura de conhecimento flutuando no espaço urbano. Transeuntes se envolvem na encenação participativa de um espaço visual e auditivo. Através da sua participação, uma interação lúdica com palavras se desenvolve, na qual seus interesses são expressos. O fluxo de palavras, ou seja, a interface evocativa da instalação funciona como uma plataforma de dados sobre a interação do ator interveniente com o gerador de dados. A experiência de ler as notícias do dia como fragmentos associativos, determina o ato interativo e faz com que os moradores da cidade falem uns com os outros. As intervenções do público são estatisticamente documentadas e visualizadas como uma imagem da energia da cidade. O projeto de arte e mídia estuda a transição de um ambiente real para um ambiente virtual dentro do espaço urbano. Ela cria um espaço para a reflexão e conhecimento através da interação do espaço físico, de artefatos de dados e das atividades do usuário. O projeto tem como objetivo medir a energia mental da cidade de uma forma artística, por meio de processos interativos, e revelar uma imagem ainda desconhecida da cidade através da visualização.
A cidade como espaço de conhecimento
Como podemos medir a energia mental de um lugar? Como ele vai se tornar visível através da interatividade de seus habitantes? Qual é o caráter do material do jogo interativo? São dados compilados pelo artista, ou são dados processualmente adquiridos, por exemplo, via internet, como neste projeto? De que forma os dados são processados ​artisticamente? Eles são processados ​​manualmente ou seguindo regras generativas? Estas são as perguntas no início do projeto. É uma tarefa de arte generativa para encontrar regras interativas simples e abertas para um jogo autônomo. Algoritmos são desenvolvidos principalmente por expressões linguísticas e em uma segunda etapa transformados em código legível por máquina. Na instalação de mídia-arte "Energie-Passagen" (Fleischmann, Strauss 2004 a) várias vertentes convergem: o conceito de participação dos moradores, o desenvolvimento de um código generativo, o desenvolvimento de uma etapa interativa, que mostra e documenta o jogo com o seu material digital.
A cidade em si é uma construção anônima, uma entidade que se apresenta face-à-face aos habitantes. A cidade está em oposição aos outros. Inúmeras pessoas e fluxo de informação dentro e fora da cidade através da rede de canais de transporte. Somente se os moradores vincularem a vida urbana a momentos específicos - individuais e coletivos, eles o farão para lembrar de lugares específicos da cidade. Através da instalação arte mídia "Energie-Passagen" [Passagens de Energia], o espaço urbano é utilizado como um palco para narrativas individuais e coletivas. A instalação reúne os moradores da cidade – o indivíduo e o outro - com todas as suas diferenças, e analisa como os métodos participativos afetam os processos relativos à formação de opiniões públicas. A encenação interativa no espaço público cria uma situação em que vários pontos de vista e energias múltiplas são capazes de se manifestar. A combinação dos espaços físico e virtual cria uma esfera urbana, que evoca a comunicação. O que é reminiscente enquanto se observa os outros, é a si mesmo, mas ao mesmo tempo o diferente dentro do outro. A percepção do que faz jus ao outro nunca é verdadeiramente possível. No entanto, a arte é capaz de contribuir para ver e perceber os outros, ou seja, para perceber que eu provavelmente não conheço o outro, mas que eu posso aprender com ela ou ele. Com este tipo de compreensão o espaço de linguagem destinado se transforma em um playground para troca irrestrita. A maneira como as pessoas pensam dentro de uma cidade, a língua de seus meios de comunicação, seus poetas e a linguagem da política são todos fluxos de energia que caracterizam uma cidade. A linguagem é a energia mental, de acordo com Heidegger, ela é a "casa do ser". Pensamento, palavras escritas e faladas formar um tecido que flui, ou seja, um espaço de linguagem que envolve a cidade construída como uma arquitetura invisível. É esta energia que nós desvendamos e visualizamos na esfera pública da cidade através de um fluxo de notícias.
Espaço urbano como lugar de intervenção visível publicamente
Com a instalação interativa vamos implementar as notícias diárias como um fluxo audiovisual de informação, na praça em frente à Casa da Literatura em Munique (Strauss, Fleischmann 2005, 118-131). Em novembro de 2004 visitantes encontram-se inesperadamente dentro do acontecimento interativo de um jogo de linguagem (Sprachspiel) na praça "Salvatorplatz" em Munique. Um fluxo de palavras eletrônicas atravessa todo o piso em frente à iluminada Casa de Literatura, bem como através dos degraus da escada de pedra, bancos e mesas. O local é coberto por uma luz virtual – e espaço acústico. A instalação transforma o jornal em um razoável passeio no fluxo de dados de notícias diárias. Trechos retirados das últimas notícias são ilustradas como um telégrafo, como um fluxo de palavras. Vozes artificiais leem palavras isoladas. Uma tela sensível ao toque e um microfone permitem aos visitantes modificar o fluxo de texto e selecionar os termos individuais. Um sistema semântico imediatamente adiciona várias palavras semelhantes "amigáveis" para essa seleção. O fluxo linguístico torna-se visível a todos através do streaming de palavras. Alguns visitantes tentam identificar o significado e a correlação por trás das palavras; outros jogam palavras uns para os outros, como em diálogos cênicos. Todos os participantes tornam-se atores e todas as entradas de dados tornam-se produtoras de dados. Interativamente a notícia fica reorganizada e visualizada na tela de projeção como um "Jornal Vivo".
A curadora Christiane Paul descreve a sobreposição do espaço físico da cidade com o espaço de dados linguísticos como uma fusão de duas esferas públicas: "Literalmente, inscrever as notícias diárias como um espaço linguístico e semântico nas ruas da cidade cria uma fusão de arenas públicas que geralmente permanecem bastante separadas no sentido físico: o espaço de informação público de eventos diários e o espaço local, público da cidade atravessado por um fluxo constante de pessoas. Enquanto os habitantes de uma cidade habitam naturalmente em ambos os espaços - o domínio público da informação e da cidade - eles geralmente não têm a possibilidade de experimentar essas localidades como redes conectadas ou reconfigurá-las colaborativamente "(Paul, 2004). Na sobreposição de ambos os espaços de instalação abre-se - sensualmente, bem como cognitivamente - uma nova experiência de sentir coletivamente um espaço mental discursivo.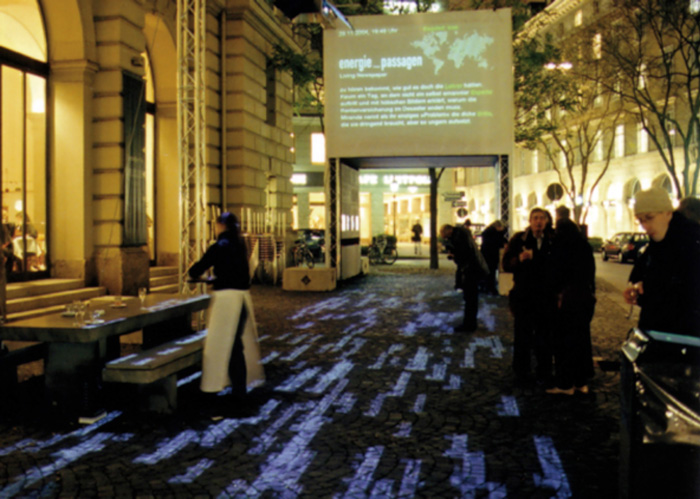 FIG. 1: "Energie-Passagen" [Passagens de energia] em frente à Casa da Literatura em Munique © Monika Fleischmann e Wolfgang Strauss, 2004
Conceito artístico, influenciadores e técnicas
O título do projeto "Energie-Passagen" [Passagens de energia] é derivado da compreensão da linguagem como energia mental. É dirigido ao termo passagem de Flusser e refere-se a "Passagen-Werk" [O Projeto Arcades] de Walter Benajmin. Vilém Flusser define o termo passagem como uma jornada na qual os elementos individuais tem "passado através", como fragmentos de um contexto mais amplo de fundir as impressões individuais como partes de um todo em uma imagem tangível (Findeisen 2004). O termo passagem de Flusser é para ser entendido no contexto de nomadismo, o estilo de vida móvel contemporâneo da "sociedade telemática". Em contraste com o pensamento "sedentário" em termos de categorias fixas isso corresponde a pensar em termos de relacionamentos. O método de montagem do texto de Walter Benjamin, em seu "Passagen-Werk" [O Projeto Arcades] inspirou o projeto, também. Adorno observa que Benjamin tenta "fazer sem qualquer tipo de interpretações evidentes e para obter os significados revelados exclusivamente através de um caminho de choque provocando material de montagem" (Adorno, 1970, p. 26). Da mesma forma, no entanto, de uma forma contemporânea, os artigos de jornal são fragmentados pelo código e são representados através da intervenção dos visitantes que participam como uma nova montagem. Os participantes são confrontados com novas constelações contínuas de termos e estabelecem novas associações por este meio.
O ponto de partida para a medição estatística em relação às inter-/ações é a frequência de particulares, palavras escolhidas. Ao usar a alimentação RSS do Süddeutsche Zeitung [jornal do sul da Alemanha] a informação diária é processada através de uma ferramenta linguística e entrou automaticamente no dia-a-dia do sistema. Gerado a partir de 30.000 palavras da edição diária, o jornal é reduzido para as 500 palavrinhas mais mencionadas. A nova edição é calculada como uma rede conceitual semântica, projetada como um fluxo de palavras no chão e retratada como um panorama audiovisual no âmbito da cidade. O espaço arquitetônico é enriquecido e sobreposto em camadas de artefatos artificiais movendo-se suavemente no espaço. Uma imagem desconhecida da cidade é revelada.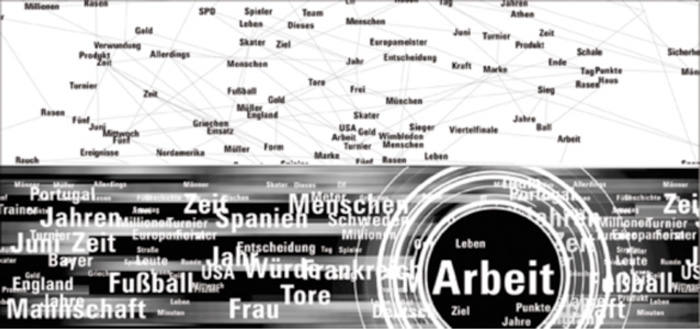 FIG. 2: O Süddeutsche Zeitung [jornal do sul da Alemanha] como uma rede semântica de informações e protótipo de interface do fluxo de notícias, a partir de 24 de junho de 2004 © Monika Fleischmann e Wolfgang Strauss, 2004.
Fluxo de Notícias passando através de nós mesmos
A sonorização dos dados por meio de vozes artificiais amplia a experiência visual da instalação no nível auditivo. Um método texto-ao-discurso converte as palavras para um panorama de som e complementa o movimento da imagem. O som espacialmente encenado, o movimento fluido e os gestos de seleção criam uma atmosfera de mudança incessante. Os visitantes participantes orientam-se de acordo com o eco desses elementos mediais e isso resulta em uma forma de eco localização. Enquanto uma palavra ainda está sendo pronunciada, ela já é ouvida e, enquanto ela está sendo ouvida, imagens internas se desenvolvem. A audiência e a imaginação se reforçam mutuamente. O cientista do som Holger Schulze descreve a simultaneidade de imagem, som e movimento como "A Orquestração de Mídia perceptual e sensual e Fluxo de Notícias " (Schulze 2005, p. 8), a qual tem um impacto sobre o corpo humano. Ele afirma: "nós poderíamos ter a impressão de que todos os fluxos de notícias atuais estavam passando através de nós mesmos" (Schulze 2005, p 7.).
Os visitantes participam de uma leitura performativa cujas palavras literalmente fluem através do corpo e fazem o público perceber o lugar sensibilizado. Isso está sendo conseguido através da implementação contínua da imagem virtual e espaço sonoro no meio ambiente real da cidade. A expressão Realidade Mista designa o formato técnico (Milgram, Kishino 1994, pp 1321-1329). No entanto, também entendemos Realidade Mista como o formato de um emaranhado de percepção sem costura, senso motoro e cognitivo (Strauss, Fleischmann 1999, pp 93-98). A compatibilidade incrível surge porque a percepção analógica e da ficção digital - ou seja, a sobreposição das realidades física e virtual - gera um pensamento e um espaço de conhecimento que, aparentemente, pode se sentir fisicamente. Isto foi confirmado pelos visitantes em inúmeras entrevistas.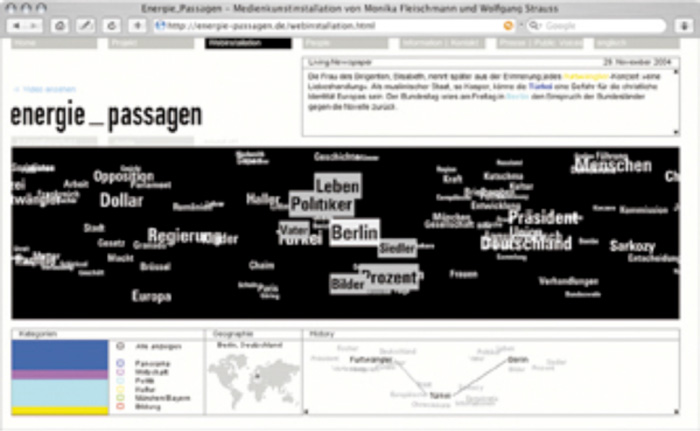 Fig. 3: O modelo de interface do fluxo de informação no format Web. http://energie-passagen.de/webinstallation.html © Monika Fleischmann & Wolfgang Strauss, 2004.
O fluxo de informação como um objeto de reflexão
A metáfora do fluxo de informação serve para transmitir uma imagem do fenômeno da sobrecarga de informação. As notícias diárias literalmente fluem como um fluxo de pensamentos atravessando a praça e se transformam em entidades transitáveis ​​e, aparentemente táteis na esfera urbana. Transeuntes interveem na atuação, escolhendo palavras de acordo com seu próprio interesse. As respostas do sistema, oferecem cinco palavras-chave adicionais, semanticamente relacionadas com a origem da palavra de pesquisa. O anel de palavras é cromaticamente destacado em verde, que flutua por algum tempo claramente visível no fluxo da palavra colorida de branco projetada. Assim, ao ator interveniente é oferecida a oportunidade de explorar ainda mais as palavras que aparecem e vinculá-las aos próprios pensamentos, associações ou sentimentos. O sociólogo Sherry Turkle define o "Energie-Passagen" [Passagens de Energia] como um dispositivo evocativo gerando um maior nível de atenção por meio da encenação implementada. Assim, ele torna-se um objeto de reflexão. Turkle caracteriza a experiência receptiva dos visitantes pela participação ativa no processo de desconstrução e reconstrução. Turkle vê isso como uma oportunidade que permite aos visitantes ter uma ideia sobre a nossa cultura de simulação: "A noção de uma experiência espacial do discurso das notícias dentro de um espaço da cidade e a possibilidade de desconstrução do jornal capta a fragmentação da mídia como é vivida pelo cidadão em uma cultura da simulação. Ela, portanto, reflete e concretiza um importante momento cultural e político, transformando-a em um objeto de reflexão "(Turkle, 2004).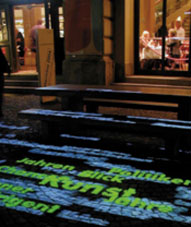 FIG. 4: Fluxo de informação, palavra-chave e ligação semântica. © Monika Fleischmann e Wolfgang Strauss, 2004.
Algumas perguntas surgem entre os participantes quando se discute as palavras. Estas questões são discutidas com outros visitantes sobre o local: "De onde estas palavras vêm?", "O que essas palavras relacionadas têm a ver com o meu termo selecionado?", "De que forma o anel de palavras se relaciona à minha palavra?", "As palavras estão ligadas à notícias atuais?". O que realmente importa para nós como artistas não é a busca precisa de informação, mas o próprio diálogo e as associações pessoais dele decorrentes. Os visitantes interpretam os dados materiais do texto fornecido e elaboram um significado muitas vezes criticamente alterado, surpreendente ou impressionante para o conteúdo. Por meio dessa montagem em forma de diálogo, os artistas intervenientes encenam novos conhecimentos em processos de leitura da narrativa.
A interface como uma figura retórica
A instalação é uma fase de ensaio para a interatividade. As interfaces para esta plataforma performativa proporcionam o acesso ao material de jogo - as palavras. O fluxo de informação como interface é uma figura retórica e um dispositivo estilístico para leitura e escrita. Sua função é inspirar e expandir diretamente uma fonte explorativamente determinável. O conceito fluxo refere-se ao fluxo de dados contínuo, determinando nosso ambiente virtual de hoje. É uma corrente artificial, no entanto, tendo um relógio de pulso como um fluxo real. O fluxo acompanha a interação e a estimula. O fluxo de informação e a rede semântica de palavras relacionadas são produtores de dados. Antes de subir ao palco também nós escolhemos uma palavra enquanto assim inscrevemo-nos como um jogador parceiro.
A partir da figura retórica e digital utilizada respectivamente emana a figura do espelho do ator humano. Assim que um visitante escolhe uma palavra, o fluxo de informação é levado a parar. A interface de tela sensível ao toque ativa um diálogo com os dados virtuais. Conexões invisíveis entre as palavras tornam-se visíveis. A interação inspira a evolução de narrativas. A interface praticamente nos fala e diz: "É simples! Basta selecionar uma palavra e ela vem instantaneamente". Embora, a palavra venha junto com outras palavras. É como se a palavra quisesse dizer e demonstrar: "Veja quem eu trouxe junto". Depois disso o número incompreensível de 500 palavras é reduzido para cinco a seis palavras.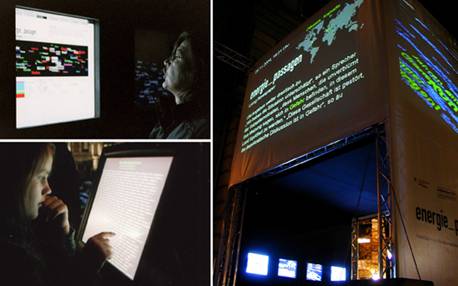 FIG. 5: Interfaces de tela sensível ao toque e o "Jornal Vivo" como uma montagem resultante da intervenção dos participantes. © Monika Fleischmann & Wolfgang Strauss, de 2004.
Baseada nas palavras e suas frases originais uma nova montagem do texto vem a ser aquilo que retrata os interesses pessoais dos visitantes. Integrados no espaço urbano três elementos construídos no espaço virtual de tempo dramatizado: o "Jornal Vivo", juntamente com o fluxo de dados e a esfera de som panorâmica. Considerando que, ao ler os olhos geralmente perseguem o texto, ou seja, as letras dentro da linha, eles agora focam para ler a palavra passando em movimento. As palavras passam, mas os olhos tentar manter-se com elas. Alguns visitantes aproveitam o momento no tempo e o movimento fisicamente indo junto com eles, enquanto refletem sobre a palavra e seu significado. A leitura aqui dura apenas enquanto a reflexão sobre uma palavra persiste. A transcrição fonética age como uma figura de "Appell" (apelo). O ato performativo é iniciado: de ser um observador para se tornar um ator, um participante interveniente e, finalmente, um produtor de dados.
Mudança de papéis
A encenação oferece espaço para múltiplos papéis sociais. A experiência de estar sendo observado faz parte da encenação. Além disso, uma mudança contínua de papel tem lugar. O visitante torna-se um espectador, então ele se torna um ator e, assim, um elemento da encenação. O público encontra uma ampla gama de papéis em relação ao diálogo entre os visitantes, o jogo multiusuário e a situação anônima de espectador da internet. Em vez de mediar um texto linear a estrutura conhecimento digital transmite um diálogo entre os participantes e os artefatos digitais. Através da leitura performativa as notícias estão sendo lidas novamente pelo público. Livre do contexto e da sintaxe dos textos originais as palavras isoladas abrem espaço para associações e especulações. Kaspar Spinner, um especialista em linguagem didática, descreve procedimentos operativos como permutação ou omissão como cognição promovendo a leitura e interpretação de textos (Spinner, 2001). A instalação "Energie-Passagen" [Passagem de Energia] fornece uma técnica de leitura e escrita que cria uma imaginação particular. Portanto, não trata simplesmente sobre a busca e localização de informação, mas sim sobre como compor próprios pensamentos em diálogo com a informação.
Processos de Leitura Narrativa
A encenação interativa inicia um movimento de leitura de palavra-chave a palavra-chave. Os visitantes fazem uma viagem ao lado das palavras simples para descobrir e revelar correlações semânticas. O processo de leitura se assemelha a fazer um trabalho de detetive. Correlações e conexões ocultas são complementadas e interpretadas em conjunto com os próprios pensamentos. Com este preenchimento associativo de lacunas os participantes criam seu próprio acesso. Wolfgang Iser, especialista em estudos alemães, mostra a leitura como um processo no qual o significado dos textos literais é gerado em primeiro lugar (Iser 1994, p.195). O significado resulta como um produto da interação entre texto e leitor. Quanto ao processo de leitura coletiva o significado resulta como um produto da interação e participação. Os visitantes agem como participantes intervenientes da performance-palavra-som. Eles se comunicam através do fluxo de palavras. Por entrelaçamento e absorção o trabalho artístico aparece como uma textura entrelaçada no espaço urbano.
O especialista em estética da mídia Peter Matussek aponta que a "Energie-Passagen" [Passagem de energia] se assemelha a uma encenação em que texto e leitor estão igualmente envolvidos: "Não se trata de jogar em torno de fragmentos de texto tecnóides, como o excessivamente comemorado culto ao hipertexto, mas preencher as lacunas remanescentes usando de uma forma estranha automatismos operacionais de modo suave. Isto se dá devido especialmente à impressionantemente harmoniosa, porém, fragmentária recomposição do que temos latentemente mantido como consumidores de notícias. Esta maneira de encenar a vida é enfaticamente soprada na escritura. Torna-se viva não apenas por causa do movimento das próprias fotos, mas por causa de sua prática de mídia para encenar leituras performativas em que texto e leitor igualmente participam de forma construtiva. Além disso, o entusiasmo compensatório faz com que o movimento de figuras flerte continuamente com a sua própria morte. Na era contemporânea do silício o futuro da escritura vez está mais dentro de formas visuais, esculturais e arquitetônicas de expressão do que na "oralidade secundária". Isto é exatamente o que a instalação faz os visitantes experienciarem sensitivamente "(Matussek 2004).
Neuropsicólogos distinguem dois processos diferentes para identificar o significado das palavras que o cérebro mantém e que são ativados em contextos divergentes. Ao ler um texto simples e comum o ato de ler parece fácil e sem esforço. Nós não temos de pensar sobre palavras isoladas. Mas assim que temos que prestar atenção em certas palavras ou frases, por causa de letras que faltam ou a caligrafia ruim e dificilmente legível, somos obrigados a raciocinar sobre o significado implícito no texto e o processo de leitura perde seus automatismos. Portanto, este atraso da leitura resulta em atenção. Um método semelhante está sendo utilizada para a atuação interativa. O leitor retarda seu movimento e começa a se perguntar sobre o significado da palavra e suas correlações semânticas. Através da utilização das palavras de um sistema não-linear a interface representa uma entidade narrativa que transforma o leitor em um ser performativo. Tudo neste jogo de linguagem depende do que está acontecendo no momento. Isso significa jogar com a linguagem, desenhar sentido a partir disso, reconsiderar e mudar as palavras envolvidas. Aqui, mudar significa dar sentido às palavras. Recombinar as palavras traz à tona atividade mental e conhecimento imprevisível.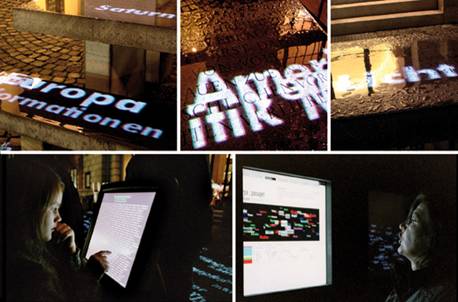 FIG. 6: Jogos de linguagem performativa e troca verbal entre participantes © Monika Fleischmann e Wolfgang Strauss, 2004.
A instalação como dispositivo de medição
A intervenção do visitante é registrada digitalmente e gravada como "energia local" (Fleischmann, Strauss 2004 b). As ocorrências das palavras de jornais mais utilizadas são determinadas estatisticamente ao longo das quatro semanas de exibição. O Süddeutsche Zeitung [jornal do sul da Alemanha] é um dos mais importantes jornais formadores de opinião na Alemanha. O infográfico mostra raramente a frequência da educação e da cultura, ao passo que o relato sobre política e economia domina. Particularmente palavras usadas com frequência do jornal como "porcento", "anos", "Alemanha", "milhões" são de qualidade objetiva. No entanto, a maioria das palavras escolhidas pelos participantes são de qualidade emocional: "preço", "pais", "vítima", "amor", "comida", "menina". Assim, a pragmática sóbria do jornal enfrenta a subjetividade emocional dos participantes intervenientes.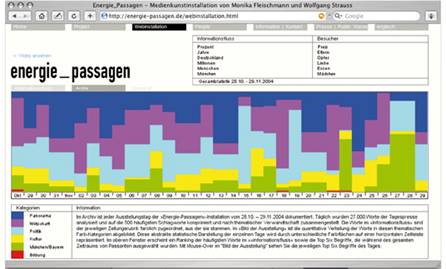 FIG. 7: Protocolo de medição interativo codificados por cores © Monika Fleischmann e Wolfgang Strauss, 2004.
Em relação à visualização do diálogo entre cidadãos e editores de jornais, alguém pode lembra-se de "A Imagem da Cidade" (1960) de Kevin Lynch. Lynch analisa a cidade como uma forma física, porque ele assume correlações entre a percepção humana e a arquitetura que os envolve. "Energie-Passagen" [Passagens de Energia] encena a cidade como um espaço de ensaio para os outros com base em ferramentas de monitorização investigativa. A instalação liga indivíduos no espaço público e evoca uma observação crítica. Este processo interativo oferece aos participantes um feedback local que ainda é aumentado na câmara de eco global em rede.
FIG. 8: Fluxo de trabalho da instalação interativa © Monika Fleischmann e Wolfgang Strauss, 2004.
Espaço de experiência torna-se espaço de pensamento
Enquanto a arquitetura da cidade lida com os processos de busca da forma e design, esta instalação revela a energia da cidade e do conhecimento imprevisto de seus cidadãos por meio de processos de manifestação devido à sua dramaturgia interativa. Os participantes são espectador, ator, escritor e intérprete em uma e mesma pessoa. Durante algum ato, eles estão encenando atos performativos para os outros. Os participantes experimentam-se na recepção estética como produtores de dados que executam uma obra cênica em conjunto com produtores de dados virtuais. As diferentes formas de interagir permitem aos visitantes experimentar com o seu papel social como atores de uma forma que não é dada na comunicação real do dia-a-dia. O público experimenta a mudança de sentido por meio de processos visuais e acústicos de descontextualização. A instalação interativa destaca o conhecimento experieciado. Os participantes experimentam um espaço de pensamento que molda eles mesmos.
Em seu romance autobiográfico "Viver para contar" o escritor Gabriel Garcia Marquez menciona um exemplo de interatividade analógica. Ele relata sobre o jornal El Espectador de Bogotá. Como na escola uma lousa era colocada na varanda do El Espectador ao meio-dia e às cinco horas da tarde. As últimas mensagens eram escritas em giz. A esta altura, uma multidão esperava impacientemente pela notícia. Os leitores de rua também tiveram a oportunidade de receber a boa notícia com sua ovação e aqueles que desagradaram-se a vaiar ou reconhecer com pedras na lousa. Esta foi uma forma direta de expressão democrática do Espectador, um termômetro para medir a febre da opinião pública (Marquez, 2002). Aqui encontramos um modelo inicial de interatividade.
A exposição Whole Earth em Berlim, apresentada na Casa das Culturas do Mundo no verão de 2013, traz luz para um outro modelo de participação no início do nível de um estado-nação. No início do governo Allende no Chile uma Comissão Cibernética foi iniciada para desenvolver novos processos de trabalho, por exemplo, direção cibernética computadorizada da economia. Um dos primeiros esboços para este projeto aponta para a necessidade de estruturas participativas para gerar e compartilhar novas ideias. (Diedrichsen 2013) "Energie-Passagen" [Passagens de Energia] seria um modelo digital razoável para a criação e armazenamento de ideias.
Referências
Adorno T.W. (1970) Über Walter Benjamin, Frankfurt a. M. 1970
Findeisen H.-V. (2004) Auf und davon [WWW] Die Zeit 11.03.2004 Nr.12 Available from: http://www.zeit.de/2004/12/Passagen-Alpen [03.31.2013].
Fleischmann M., Strauss, W. (2004 a) Energie-Passagen [WWW] ZKM. Available from: http://energie-passagen.de [03.31.2013]
FLEISCHMANN M., STRAUSS W. (2004 b) Energie-Passagen Webinstallation und Archiv.  [WWW] ZKM. Available from: http://www.energie-passagen.de/webinstallation.html [03.31.2013]
MARQUEZ G.M. (2002) Live to tell them. Cologne. P.320
Matussek P. (2004) "Kein technoides Herumgewürfle mit Textfragmenten ..." [WWW] ZKM. Available from: http://www.energie-passagen.de/presse2.html [03.31.2013]
MILGRAM P., KISHINO F. (1994) A Taxonomy of Mixed Reality Visual Displays. In IEICE TRANSACTIONS on Information and Systems Vol.E77-D No.12
Paul C. (2004): "a fusion of public arenas ..." [WWW] ZKM. Available from: [03.31.2013].
Schulze H. (2005)  On Taking Back An Artifical Separation. Introduction to Sound Art Visual, Transmediale 05 [WWW] ZKM. Available from: [03.31.2013]
Spinner K.H. (2001) Kreativer Deutschunterricht. Identität – Imagination – Kognition. Seelze
Strauss W., Fleischmann M. (1999) Staging the space of mixed reality - reconsidering the concept of a multi-user; Environment. In: Proc. of VRML 99-Fourth Symposium on the Virtual Reality Modeling Language, ACM, New York
Strauss W., Fleischmann M. (2005) Implosion of Numbers - Performative Mixed Reality . In: Weibel,P; Flachbart,G. (eds): Disappearing Architecture. Basel [WWW] Available from: http://netzspannung.org/database/313652/de [03.31.2013].
Turkle S. (2004): "A true evocative object ..." [WWW] ZKM. Available from: www.energie-passagen.de/presse2.html [03.31.2013]
Bibliografia
BENJAMIN W. (1982) Das Passagen-Werk. Gesammelte Schriften. Bd. V. Frankfurt a. M.
DIEDRICHSEN D. FRANKE A. (2013) The Whole Earth. California and the Disappearance of the Exterior. Berlin.
Fleischmann M.Strauss W. (2008) Interactivity as Media Reflection between Art and Science, In: The Art and Science of Interface and Interaction Design by Sommerer C. et al., Wien: Springer  P. 86.
Fleischmann M., Strauss W. (2011) Performing Data  [WWW] Fleischmann-Strauss.de. Available from: http://fleischmann -strauss.de/resources/Performing_Data_09_2011_Monika_Fleischmann_Wolfgang_Strauss.pdf [03.31.2013].
Iser W. (1994) Der Akt des Lesens. Stuttgart
FLUSSER V. (1997) Medienkultur. Frankfurt a. M.
Lynch K. (1960) Image of the City, Cambridge/Mass.
Strauss W., Fleischmann M. (2005) Implosion of Numbers - Performative Mixed Reality . In: Weibel P., Flachbart G. (eds): Disappearing Architecture. Basel, Birkhaeuser. [WWW] Available from: http://netzspannung.org/database/313652/de [03.31.2013].
Wittgenstein L. (1967) Philosophische Untersuchungen. Frankfurt a. M. Suhrkamp