Museus nunca foram (tão) digitais
Renato Silva de Almeida Prado é arquiteto e mestre em Comunicação e Semiótica, e doutorando no Programa de Pós-graduação em Arquitetura, na Faculdade de Arquitetura e Urbanismo da Universidade de São Paulo. Pesquisa interação e engajamento dos públicos visitantes de espaços expositivos digitais e híbridos — físico e digital. Atualmente, integra o grupo Estéticas e Memórias do Século 21, na FAU-USP. Projetou a interface digital de diversos acervos, como também aplicativos, instalações, websites e sistemas para instituições e espaços expositivos. realmeidaprado@usp.br http://lattes.cnpq.br/2900888162794907
Como citar esse texto: PRADO, R. A. Museus nunca foram (tão) digitais. V!RUS, São Carlos, n. 21, Semestre 2, dezembro, 2020. [online]. Disponível em: <http://www.nomads.usp.br/virus/virus21/?sec=4&item=15&lang=pt>. Acesso em: 04 Out. 2023.
ARTIGO SUBMETIDO EM 23 DE AGOSTO DE 2020
Resumo
O interesse por atividades remotas durante o isolamento social, ocasionado pela disseminação do coronavírus, colocou à prova as experiências digitais proporcionadas por museus e outras instituições culturais para a difusão de seu patrimônio histórico e cultural. Em uma mudança repentina, essas experiências passaram a ser a principal forma que estas instituições dispunham para tal tarefa. Diferentes modelos de exposição de seus conteúdos culturais foram difundidos como catálogos digitais, passeios virtuais, vídeos 360º, galerias de vídeos e imagens, entre outros. Entretanto, a oferta da produção artística no formato digital por parte dos museus não atendeu ao anseio de um público essencialmente digital. O interesse demonstrado no início da pandemia se sustentou por apenas duas semanas e retornou a patamares pré-pandêmicos. Este artigo busca identificar fatores que possam ter contribuído para esse desinteresse por estas experiências digitais ofertadas, tecendo relações entre elas, as práticas análogas adotadas por instituições culturais para seus espaços expositivos físicos e características específicas do espaço digital. Busca-se, assim, estimular reflexões acerca destas experiências, de forma a nortear o seu desenvolvimento perante este novo contexto.
Palavras-chave: Museu, Exposição, Projeto expográfico, Digital, Internet
1 Introdução
O isolamento social implantado às pressas no mundo todo em consequência da rápida expansão da Covid-19, no primeiro semestre de 2020, resultou, em um primeiro momento, no esvaziamento do espaço público e na transformação dos lares em centros de consumo e produção. Diversos ambientes onde se desenvolvem atividades sociais e culturais foram afetados por esta transformação, como cinemas, auditórios, teatros, restaurantes, shoppings centers e museus, entre outros. Como consequência, ampliou-se a demanda por alternativas remotas a estas atividades. Os serviços de streaming cresceram, assim como serviços de videochamadas, compras online e serviços de entrega.
No universo museal, o panorama não foi diferente. Entre os dias 15 e 28 de março de 2020, o número de pesquisas pelo termo online museums, na plataforma do Google, atingiu um pico mais de dez vezes maior que os números registrados em média nos cinco anos anteriores. Outros termos similares, como online museum, virtual tour , virtual museum e museums online, seguiram curva similar. Repentinamente os termos citados acima tornaram-se populares, assim como passaram a circular nas redes sociais e aplicativos de mensagens inúmeras listas de museus que podiam ser visitados virtualmente.
Entre as experiências oferecidas pelos museus, uma das mais comuns foi o acesso aos catálogos digitais de suas coleções. Mesmo antes da pandemia, museus ao redor do mundo já disponibilizavam seus catálogos em seus sites para a visitação pública – alguns com mais recursos que outros. Entre eles, destacam-se a coleção do Museu do Prado, na Espanha, o Instituto de Arte de Chicago, nos EUA e o Rijksmuseum, na Holanda, entre outros. Outra experiência bastante difundida foi o passeio virtual pelo interior dos espaços físicos dos museus. Instituições como o Dalí Theater-Museum, nos EUA, o Museu Nacional Thyssen-Bornemisza, na Espanha, e o Louvre, na França, são algumas das instituições que disponibilizam esses passeios em seus sites. Diversas destas experiências são desenvolvidas em parceria com a Google, através do seu projeto Google Arts and Culture, que abriga em sua plataforma boa parte dos passeios virtuais disponíveis, além de outras formas de apresentações digitais desenvolvidas por sua equipe. Em menor número, foram difundidas, também, outras experiências, como o uso de vídeos – Museu Picasso, na Espanha –, aplicações 360° – Metropolitan, nos EUA, e Museu do Vaticano, no Vaticano –, e visualizações 3D de objetos – British Museum, na Inglaterra –, entre outros.
Em um contexto de pandemia altamente digitalizado, com uma grande oferta de experiências museais para visitar de casa, seria de se esperar uma aderência e engajamento congruentes ao interesse demonstrado globalmente nas pesquisas pelo termo online museums. Mas, ao contrário de outros serviços que tiveram também muita procura, como serviços de streaming, esta efervescência no universo museal durou poucos dias. E, conforme apresentado na figura 1, a queda no interesse pelos termos online museums e similares foi tão rápida quanto o crescimento. Ainda que os dados obtidos junto à Google sejam superficiais, com valores referenciados, eles servem como um alerta para refletirmos sobre estas formas de exibição que, durante a pandemia, ganharam maior importância do que comumente demonstravam.

Fig. 1: Gráfico de interesse ao longo dos últimos 5 anos pelo termo online museums, na plataforma de busca do Google. O pico destacado representa as semanas de 15 a 28 de março. Fonte: Autor, 2020.
Esse artigo busca levantar pontos que podem ter contribuído para esta queda abrupta de interesse, através de uma análise exploratória destas experiências. Acredita-se que esse apontamento pode potencializar a reflexão sobre as formas com que museus atualmente trabalham a exposição e difusão de seus conteúdos expositivos em um contexto digitalizado. Para tanto, esta análise estrutura-se em quatro grandes tópicos: 1) a natureza do objeto expositivo, que analisa o conteúdo destas exposições, 2) o desenvolvimento da narrativa e 3) o fluxo no espaço expositivo, ambas análises sobre a forma que estes conteúdos são apresentados, e 4) o relacionamento com o público que acessa estas exposições, que aborda a proximidade e a troca que esses museus estabelecem com os visitantes.
Foram realizadas, na plataforma de busca do Google, duas pesquisas por conteúdos publicados entre março e abril de 2020, de forma a simular as pesquisas realizadas no período de pico dos termos online museums e similares. Na primeira, foi utilizado o termo online museums, realizando a busca em todo o mundo. Conforme ilustrado na tabela 1, foram selecionadas as 31 primeiras recomendações de museus de arte com exposições online, citadas nos sete primeiros resultados apresentados. Na segunda, foi utilizado o termo museus online, restringindo a busca ao território nacional, e, conforme ilustrado na tabela 2, foram selecionadas as cinco primeiras novas recomendações de museus de arte brasileiros com exposições online, citadas nos três primeiros resultados apresentados.
Uma vez que o único museu brasileiro que figurou nas listas internacionais foi o MASP, esta segunda pesquisa visou agregar a esta análise as iniciativas nacionais mais difundidas. No total, a pesquisa selecionou trinta instituições estrangeiras e seis nacionais em dez diferentes listas de recomendação.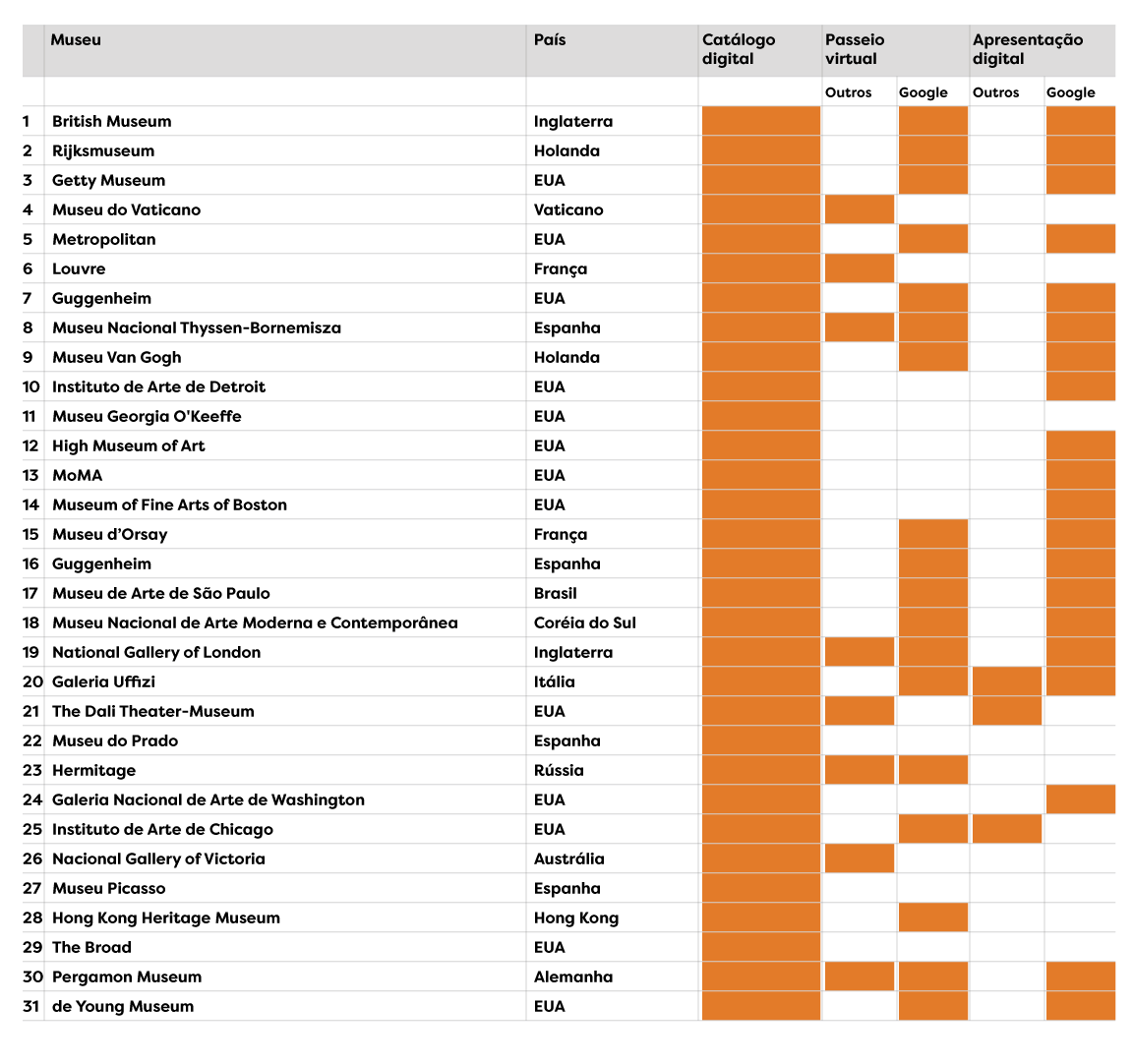 Tabela 1: Lista dos 31 museus selecionados dos sete primeiros resultados publicados entre março e abril de 2020 e apresentados na plataforma do Google para o termo online museums. A tabela aponta as soluções de exposição digital que cada museu oferece, identificando o uso ou não da plataforma Google Arts and Culture. Fonte: Autor, 2020.

Tabela 2: Lista dos 5 museus do território nacional selecionados dos três primeiros resultados publicados entre março e abril de 2020 e apresentados na plataforma do Google para o termo museus online. A tabela aponta as soluções de exposição digital que cada museu oferece, identificando o uso ou não da plataforma Google Arts and Culture. Fonte: Autor, 2020.
Deste universo pesquisado, as três principais formas de exposição identificadas, que sustentaram o desenvolvimento deste texto, foram os catálogos digitais, os passeios virtuais e as apresentações digitais. Trinta e três dos trinta e seis museus selecionados apresentam suas coleções em catálogos digitais. Os três únicos museus que não possuem tal recurso são o Instituto Inhotim, o Museu Casa Guignard e o Museu Casa Portinari, todos nacionais. Vinte e sete dos museus selecionados disponibilizam passeios virtuais nos seus espaços físicos – vinte e um utilizam a plataforma do Google Arts and Culture para este propósito, sendo que em quinze esta é a única forma. E vinte e cinco dos museus selecionados procuram expor seus conteúdos em apresentações digitais – destes, apenas três museus possuem recursos próprios, enquanto os outros vinte e dois utilizam a plataforma do Google Arts and Culture.
2 A natureza do objeto expositivo
[U]ma exposição sem uma porção mínima de realidade é inevitavelmente reduzida a um livro a ser lido em pé.[...] Uma exposição é considerada fraca quando substituída, [...] sem precisar sair de casa, por um bom livro, um bom filme, um bom disco ou uma boa conexão de Internet. Um visitante certamente poderia sair e visitar uma exposição deste tipo, mas ele prefere não ir. (WAGENSBERG, 2005, p. 314, tradução nossa)
Em nenhuma das exposições online dos museus pesquisados, os trabalhos expostos são essencialmente digitais: remetem majoritariamente a objetos culturais materiais, representados no espaço digital. Esta característica condiciona toda a análise que se segue, pois a ausência da materialidade em uma exposição online – não apenas relativa às obras apresentadas, mas também ao próprio espaço físico das galerias de um museu – é, provavelmente, o principal fator para o desinteresse por parte do público. É compreensível que, hoje, um serviço de streaming consiga suprir de forma mais adequada a experiência de ir ao cinema do que a visita a um museu online o faz frente a uma visita presencial. Não há, ainda, tecnologia disponível que torne próxima a experiência de apreciar uma obra em um museu virtual da apreciação ao vivo dessa mesma obra. É inevitável aceitar o fato de que, hoje em dia, o encontro ao vivo com um objeto cultural material não será suprido por uma representação digital. Um projeto expográfico digital não precisa assumir tal responsabilidade.
Entretanto, há outras formas de buscar um maior envolvimento do público com estas experiências, seja ao transpor de forma adequada determinados atributos consolidados em uma exposição física, seja na adoção de novos recursos exclusivos deste contexto digitalizado. Quanto a este último ponto, um museu online, por estar acessível de qualquer lugar, pode ser visitado e relacionar-se com um maior número de pessoas de qualquer região do mundo. Apenas cinco dos museus pesquisados não ofereciam suas coleções em inglês. Ademais, alguns catálogos digitais como o do Rijksmuseum, Museu do Prado, Getty Museum e Galeria Nacional de Arte de Washington, por exemplo, disponibilizam imagens em alta resolução cuja ampliação permite a visualização de determinadas características das obras que não seriam possíveis de serem observadas ao vivo em um museu.
3 Desenvolvimento da narrativa
Uma importante característica no estabelecimento de um maior envolvimento entre o visitante e um conteúdo expositivo é a forma com que a expografia estrutura as possíveis narrativas de uma exposição. Ao refletir sobre a linguagem museal enquanto processo de comunicação, Mário Chagas (2011) estabelece que a instituição, a preservação e a seleção de bens culturais – a reserva técnica – seriam análogas ao dicionário. Já a combinação, o arranjo e a arrumação destes bens culturais – o projeto expográfico – seriam análogos a estrutura sintática. Nem o dicionário nem a estrutura sintática por si só constituem linguagem, mas o são quando em conjunto. Desta forma a linguagem museal não existe se não for constituída tanto dos bens culturais quanto de uma configuração específica para eles. Em outras palavras, a linguagem museal depende tanto do acervo, dos objetos expositivos, quanto de uma narrativa, um discurso que dará um novo significado para estes objetos.
David Carrier (2006, p. 94, tradução nossa) sustenta reflexão similar ao dizer que "assim como as palavras formam sentenças cujo sentido e referência dependem de seus componentes, também as obras de arte visuais juntas têm um significado que elas não possuem isoladamente". E complementa: "Não há dúvidas que uma sequência de obras de arte, sua distribuição, seu posicionamento, mesmo sua iluminação, a cor da parede [...] são pré-condições essenciais para que possam exprimir algo" (BEYER, 2002, p. 29 apud CARRIER, 2006, p. 103, tradução nossa).
Na maior parte dos casos, um projeto expositivo digital vai sempre ser constituído de uma base de dados e uma interface que apresenta esteticamente este conteúdo. A base de dados é o que, em sua reflexão, Chagas relaciona ao dicionário, à reserva técnica. É nela que estão arquivadas as informações catalogadas destes conteúdos. Já a interface materializa a estrutura sintática, a narrativa. Como considera Lev Manovich em seu livro The language of the new media:
Em geral, criar um trabalho baseado em novas mídias pode ser compreendido como uma construção de uma interface para uma base de dados. No caso mais simples, a interface apenas provê acesso a [informações desta] base [...] Mas a interface pode também traduzir [essa] base de dados em experiências muito diferentes para os usuários. (2001, p. 226, tradução nossa)
Os três tipos de exposição online identificados nos museus pesquisados, catálogos digitais, passeios virtuais e apresentações digitais, possuem estrutura correspondente à exposta por Manovich e lidam de formas diferentes na construção de suas narrativas. Apresentam majoritariamente seus conteúdos em dois níveis de visualização. O primeiro nível, uma visão mais geral, que apresenta um conjunto de obras relacionadas; e o segundo nível, uma visão mais específica, que apresenta uma obra isoladamente: sua ficha catalográfica ou parte dela.
Os catálogos digitais, em sua origem, são ferramentas de pesquisa cuja estrutura e interface possuem uma lógica arquivística, presentes nos sistemas de catalogação que são comumente operados por equipes especializadas. São ferramentas originalmente destinadas a um uso educacional – com foco em pesquisadores – que passaram a ser utilizadas também como uma forma de difusão para um público não especializado. Nestes casos, a construção da narrativa é determinada pela pró-atividade do visitante em sua pesquisa. Não há um ou mais caminhos pré-determinados por um projeto expográfico. A narrativa é construída na medida em que o público altera parâmetros desta ferramenta e visualiza novos conjuntos de obras. Essa característica é um ponto sensível, pois há uma parcela do público que tem preferência por ser conduzido por um discurso curatorial a desenvolver sua própria investigação.
Catálogos são compostos basicamente de listas, muitas vezes no formato de grid, e fichas catalográficas. Nas listas, são apresentados recortes de obras selecionadas por um visitante; nas fichas são apresentadas informações detalhadas de uma única obra selecionada. Nestas listas, as obras aparecem de forma padronizada, com pouca ou nenhuma diferenciação entre elas: a forma com a qual as obras são apresentadas está mais ligadas à estrutura de lista do que a alguma característica da própria obra. Nenhum dos trinta e três catálogos pesquisados apresenta suas coleções em formato diferente de lista ou grid.
Já na apresentação das fichas individuais de uma obra, existe uma maior diversidade de visualidades e recursos disponíveis entre os diferentes museus. Enquanto há interfaces mais simples como as apresentadas pelos museus brasileiros, o Museu do Vaticano e o Louvre, há também interfaces mais complexas, como as do Instituto de Arte de Chicago, Museu do Prado, MET, British Museum e Rijksuseum. Nestas últimas, há uma maior quantidade e melhor organização das informações catalográficas e relacionais de uma obra, o que abre novas rotas e possibilidades de narrativas para os visitantes. Entretanto, ainda que haja variação de museu para museu, as soluções adotadas se repetem, de forma homogênea, para as outras obras da mesma instituição, criando um mesmo padrão visual durante todo o fluxo da exposição. O único caso que apresenta característica divergente é o catálogo do Museu Van Gogh que, em sua ficha catalográfica, posiciona cada obra sobre uma cor específica.
Já os passeios virtuais buscam no projeto expográfico presencial a narrativa para a apresentação online dos trabalhos. São processos de simulação do espaço físico dos museus que colocam o visitante dentro de um ambiente tridimensional, permitindo-o circular por entre as galerias como se estivesse presente nas instalações físicas destas instituições. Ao contrário dos catálogos, os caminhos já estão definidos no projeto expográfico e a pró-atividade do visitante não tem a mesma importância. As obras estão posicionadas da forma como foram no projeto expográfico original, transpondo para a experiência virtual a mesma narrativa do espaço físico. Este ambiente tridimensional possui a mesma função que a lista nos catálogos digitais: apresentar um conjunto de trabalhos com uma temática e um discurso que os une. E assim como nas listas, cada obra neste ambiente pode ser ligada à sua ficha catalográfica. Dos vinte e sete passeios virtuais da pesquisa, apenas o da National Gallery, na Inglaterra, possui fichas catalográficas para todas as obras expostas. Outros mostram informações de obras selecionadas, como o Museu Nacional Thyssen-Bornemisza, a Pinacoteca de São Paulo e o Louvre. Outros, ainda, não possuem informação alguma sobre as obras, como o Museu do Vaticano e o Museu Casa de Portinari.
Através deste ambiente tridimensional, o visitante pode compreender a disposição e o tamanho das salas, apreciar características do projeto arquitetônico do museu, seu pé direito, as texturas de seus materiais. Pode observar detalhes do projeto expográfico, a circulação, a iluminação, as cores, a composição das obras, entre outras características. Alguns museus, como o National Gallery of Victoria, na Austrália, Thyssen-Bornemisza, na Espanha, Dali Theater-Museum, nos EUA, e Pinacoteca de São Paulo, oferecem a possibilidade da experiência ser realizada em realidade virtual, o que exige que o visitante possua um dispositivo adequado para esta função. Hoje, com a visita ocorrendo nas telas de computadores e dispositivos, o desenvolvimento da narrativa nos passeios virtuais fica comprometida. A experiência online não exerce o mesmo impacto da experiência presencial. Suas narrativas são extensas, apropriadas para visitas físicas de longa duração e incompatíveis com uma visita através de um computador ou dispositivo.
Jay David Bolter e Richard Grusin (2000) refletem sobre o processo de remediação, no qual diferentes mídias em diálogo ressignificam-se e geram novas tipologias visuais. Por ser uma novidade, o desenvolvimento de uma nova mídia será pautado no uso e características de outras tradições culturais já estabelecidas, que facilitarão e orientarão sua introdução no cotidiano das pessoas. Pauta-se em algo já conhecido pela sociedade que, paulatinamente, irá melhor compreender suas características, ressignificando-as. No caso das mídias digitais, os primórdios do desenvolvimento de suas interfaces remetem ao texto. Foi ele o primeiro objeto cultural a ser digitalizado (MANOVICH, 2001, p. 74), e interferiu estruturalmente nestas novas linguagens. Incorporamos ao digital o conceito de página: um elemento de tamanho finito que podia ser sequencializado, como em um livro. Nos anos 1990, mesmo com a adição de outros objetos como imagens, vídeos, gráficos, desenhos e tabelas, as interfaces continuavam a ser essencialmente uma página tradicional, similar a um jornal (MANOVICH, 2001, p. 74-75).
Ao longo deste processo de evolução, alguns recursos foram, aos poucos, sendo incorporados, criando experiências mais interativas e dinâmicas – como o caso do hiperlink, do formato html e de linguagens como o javascript. Um processo fundamental que permitiu que as novas tecnologias pudessem ser utilizadas livres das limitações que os suportes tradicionais lhes conferiam e, ao mesmo tempo, explorassem seus potenciais exclusivos, não presentes nas mídias tradicionais. Essa evolução ganhou ainda mais força no início do século XXI, com o surgimento dos blogs e das redes sociais, quando a Internet se tornou um ambiente social, com maior grau de interatividade e maior capacidade de colaboração na construção de conteúdo. Frente à aparição de novos serviços online, a ideia de página perdeu força, as referências do formato impresso revelaram contornos limitadores e passaram a ser preteridos na concepção das novas interfaces.
As experiências de passeio virtual atuais remetem diretamente a este processo. São tentativas forçadas de se manter uma tradição cultural em um contexto onde ela mais opera como um limitador do que um potencializador da experiência museal. É compreensível, uma vez que não há muitas referências que ressaltem tais amarras, mas inadequado, pois não produz no visitante a sensação projetada para a experiência física.
De forma similar aos passeios virtuais, as apresentações digitais possuem uma narrativa pré-determinada. São histórias que podem abordar diferentes museus, coleções, temas, artistas e obras contadas através de conjunto de textos, imagens, áudios e vídeos. A narrativa se desenvolve de forma linear, requerendo, dos visitantes, ações simples, como o clique em setas ou a rolagem de uma página, o que por vezes pode tornar a visita monótona. Ao longo destas histórias, as obras apresentadas podem ser clicadas e, da mesma forma que nos catálogos digitais e nos passeios virtuais, é possível acessar dados mais detalhados sobre um trabalho. É o formato que melhor aproveita das características do espaço digital e é o que mais se distancia da estética tradicional utilizada pelos museus. Entretanto, a dinâmica de uma exposição neste formato é muito semelhante a qualquer outra de outro museu. Os recursos disponíveis para apresentar uma narrativa ainda são poucos e geram narrativas semelhantes.
4 O fluxo no espaço expositivo
"Imagine museus de arte organizados de formas [...] excêntricas, exibindo pinturas de acordo com o tamanho, do menor ao maior; de acordo com a cor, agrupando imagens vermelhas, chinesas, indianas e italianas (juntas); ou de acordo com a data de nascimento do curador responsável pela aquisição. [...] Obras expostas com base em tais classificações são improváveis de serem aplicadas." (CARRIER, 2006, p. 93, tradução nossa)
De forma simplificada, o deslocamento espacial nas galerias físicas de um museu pode ocorrer de forma linear, onde o visitante percorre um trajeto pré-definido, ou de forma não linear, onde o visitante precisa tomar decisões e definir seu próprio trajeto. Um exemplo de espaço com percurso linear é do Guggenheim de Nova Iorque, onde o fluxo circular é definido pelo projeto arquitetônico de Frank Lloyd Wright. Ainda que cada visitante possa iniciar em diferentes andares ou caminhar em direções opostas, o número de caminhos possíveis é reduzido e controlado. Outro exemplo é a exposição de longa duração que ocupa o andar superior da Pinacoteca do Estado de São Paulo. O deslocamento do público segue o mesmo conceito, com salas numeradas de 1 a 11, criando um fluxo que circunda os átrios centrais do edifício. Já a exposição de longa duração do MASP, Acervo em transformação, possui lógica diversa. Tanto pelo amplo espaço da galeria sem divisórias, quanto pelo suporte das obras – ambos projetados por Lina Bo Bardi –, a organização permite um fluxo não linear dos visitantes por entre as obras, conforme ilustrado na figura 2.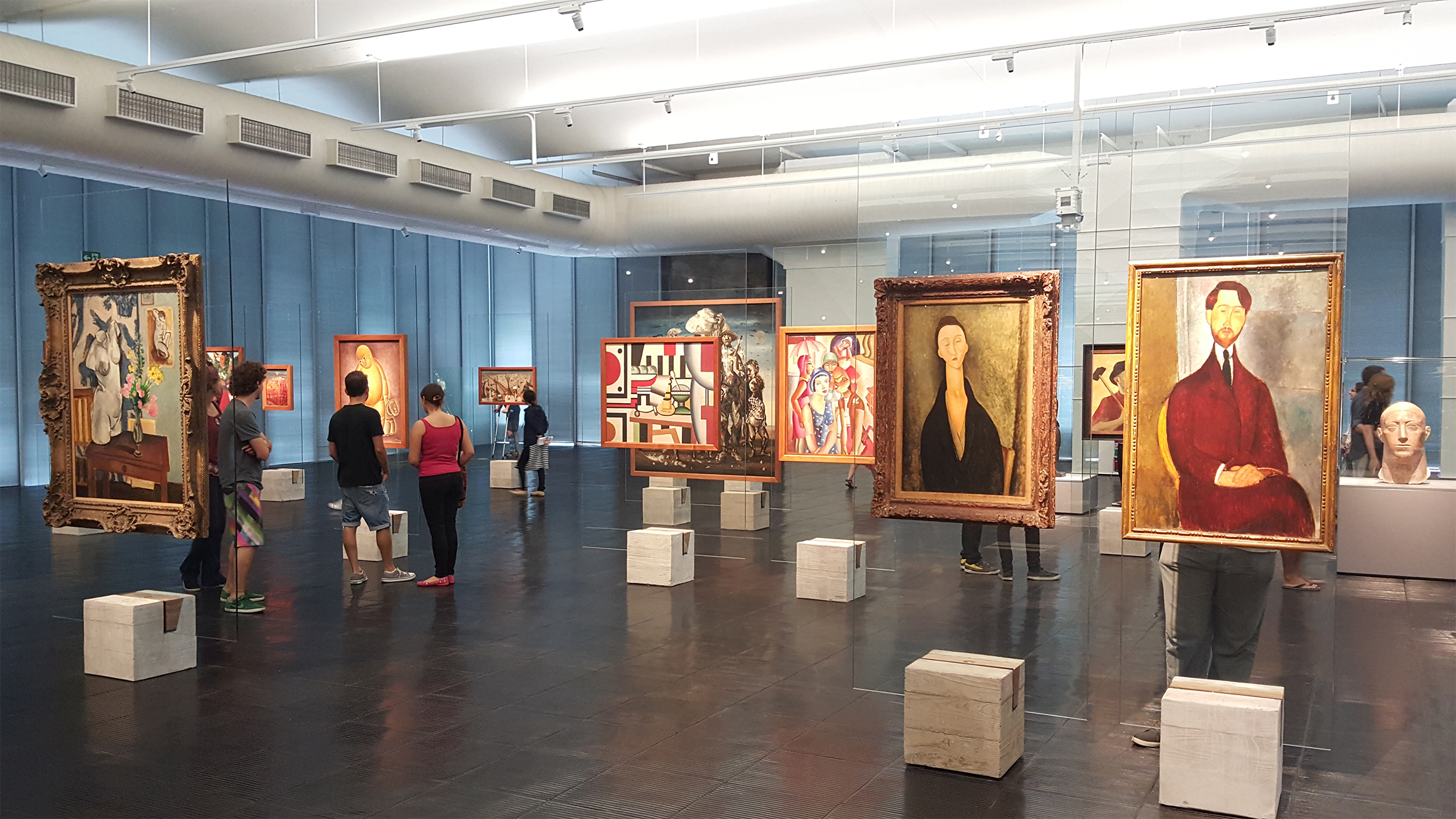 Fig. 2: No projeto expográfico do MASP, a circulação é livre, permitindo ao público um maior leque de caminhos possíveis. Fonte: Cleber Vallin, 2016. Disponível em: https://commons.wikimedia.org/wiki/File:Acervo_Exposi%C3%A7%C3%A3o_Recente-8.jpg . Acesso em: 20 ago. 2020.
Os cavaletes de cristal ficam dispostos em fileiras na sala ampla, livre de divisórias, do segundo andar do museu. Retirar as obras da parede e colocá-las nos cavaletes possibilita um encontro mais próximo do público com os trabalhos, e o visitante pode caminhar entre as obras, como em uma floresta de obras, que parecem flutuar no espaço. O espaço aberto, fluido e permeável oferece múltiplas possibilidades de acesso e de leitura, eliminando hierarquias e roteiros predeterminados. (MUSEU DE ARTE DE SÃO PAULO, 2018)
Nos casos acima, e como regra para qualquer espaço físico, uma pessoa terá sempre a possibilidade de personalizar sua narrativa durante sua visita: a velocidade em que transita entre as galerias e os pontos de parada, descanso e reflexão.
Nada impede [um visitante] de ir direto a suas obras favoritas, pouco reparando em um fluxo determinado. Sequer precisa ler os textos de parede. E mesmo que uma exposição esteja organizada em ordem cronológica, normalmente é possível andar até o fim e depois ver a cronologia reversa. (CARRIER, 2006, p. 108, tradução nossa)
Entretanto, esse nível de personalização estará limitado pelos elementos fixos no espaço. Não é possível reordenar as obras segundo critérios pessoais. A priori, há apenas uma possibilidade de organização das obras em uma exposição física. Elas não mudam de posição, e essa rigidez determina limites de narrativas possíveis nestes espaços. Em um ambiente digital esse limite, essencialmente, não existe. Um dos atributos das mídias digitais destacado por Manovich (2001, p. 30-31) é a modularidade. É o potencial de cada objeto digital ter uma estrutura modular e fazer parte de uma estrutura maior – também modular. Cada elemento dentro de um agrupamento é independente do outro; a combinação entre os objetos não é permanente, mas circunstancial; e um objeto pode fazer parte, simultaneamente, de inúmeras combinações. É possível oferecer a um visitante todas as formas excêntricas de organização dos objetos expositivos, conforme coloca Carrier, e ainda ofertar diferentes narrativas curatoriais, educacionais ou customizadas para públicos específicos, e até propor um relacionamento mais horizontal, dando ao público visitante o poder de criar e expor suas próprias narrativas em uma mesma exibição.
Essa modularidade é muito evidente nos catálogos digitais, por razão dos recursos de pesquisa que oferecem. No catálogo do Instituto de Arte de Chicago e do Rijksmuseum, é possível visualizar um recorte de suas coleções de acordo com uma determinada cor. No catálogo do Metropolitan, o visitante é convidado a acessar apenas obras que retratem pássaros e, no do Guggenheim Bilbao, é possível selecionar apenas as aquisições mais recentes. É possível reconfigurar estes espaços expositivos a qualquer instante. Nos passeios virtuais, a experiência é parcialmente limitada pela falta de modularidade que o espaço físico transposto para o ambiente tridimensional proporciona. Embora exista a possibilidade de um deslocamento direto entre diferentes ambientes, a formatação do espaço não é modular. Um trabalho sempre estará ao lado dos mesmos trabalhos, dentro da mesma sala, no mesmo andar. Já as apresentações digitais, assim como os passeios virtuais, apresentam percursos únicos de leitura linear e não modulares.
Se por um lado o isolamento social nos privou de nos movimentarmos para além de nossas casas no espaço físico, por outro, forçou-nos a experimentar diferentes formas de fluxo no espaço informacional. Desde interfaces que continuam a ser exaustivamente utilizadas, como as de videochamadas, filmes e programas em streaming, e as interfaces de pesquisa nas lojas virtuais, até as experiências aqui analisadas, que apresentaram posterior queda de interesse.
5 Relacionamento com o público
Em um ecossistema diverso e dinâmico como a Internet, a atenção de diferentes públicos é intensamente disputada por inúmeras corporações, organizações e instituições, que almejam um relacionamento mais próximo com eles. Para tanto, é necessário conhecer estes diferentes públicos e compreender seus desejos para constantemente ajustar suas estratégias de relacionamento e ofertas de conteúdo. No universo museal, há uma longa tradição na aplicação de pesquisas de público para conhecer os perfis dos visitantes – e suas preferências –, além de avaliar o seus próprios programas e exposições (SCHMILCHUK, 2012, p. 23). Os registros de pesquisas de público nos seus espaços expositivos remetem ao início do século XX (KOPTCKE, 2005, p. 188).
O conceito de museu está em constante evolução, impulsionado por uma combinação de visão curatorial, inovação artística e demandas do público. O primeiro desafio para o museu do século XXI é [...] desenvolver programas para que esses espaços reflitam o desejo do público por um envolvimento mais ativo com a arte. [...] A era digital obriga-nos a responder às necessidades e expectativas de nossos públicos de novas maneiras." (SEROTA, 2016, n.p., tradução nossa)
Uma forma para responder às necessidades e expectativas dos diferentes públicos é a análise do seu comportamento no espaço expositivo. Uma das técnicas tradicionais mais eficientes para compreender esse engajamento das pessoas durante seu trajeto pelo espaço expositivo é o método de observação dos visitantes ou timing and tracking. Segundo Yalowitz e Bronnenkant (2009, p. 49-50), dados registrados com a utilização deste método descrevem por onde um visitante andou, quanto tempo ficou em determinada área e em determinado conteúdo e o número de paradas. Descrevem o deslocamento do visitante pela galeria, interação social com outros grupos, visitantes, professores e voluntários, assim como o uso de objetos interativos ou vídeos. Ainda, é possível coletar informações demográficas como a faixa etária, número de adultos e crianças em um grupo, gênero, entre outros.
Em um ambiente digital, tanto o espaço quanto os objetos culturais presentes nele são compostos por códigos. Por trás de qualquer um deles, seja um texto, uma imagem, um som ou um vídeo, há um código que o descreve e o representa. O mesmo vale para qualquer atividade que ocorra nestes espaços: qualquer interação com o ambiente ou com os objetos também possui um código que a descreve. Uma importante implicação desta característica é que tudo o que acontece nestes espaços é registrado, e esse registro é passível de armazenamento e análise. É comum que sites e outras aplicações online contenham ferramentas que registrem o fluxo de visitas e de visitantes, organizando estas informações em bases de dados. É também comum que esses dados sejam utilizados para sugerir conteúdos de interesse do público em função das pesquisas realizadas e conteúdos acessados anteriormente. Dos 33 catálogos digitais analisados, 26 possuem códigos que permitem esses registros. Porém, não há nenhum caso onde essas informações retornam explicitamente ao visitante em forma de recomendação de conteúdo personalizado.
Outra forma de aproximar os diferentes públicos dos espaços e conteúdos dos museus é criar condições para que eles estabeleçam vínculos pessoais, encontrem temas de seus interesses, participem da produção de conteúdo e sintam-se parte integrante daquele ambiente. Atrelado ao seu catálogo digital, o Rijksmuseum oferece aos seus visitantes ferramentas para que eles criem suas próprias narrativas, agrupando obras segundo seus próprios critérios. subvertendo sistematizações já estabelecida pela instituição. Cada narrativa fica disponibilizada, junto a outras narrativas criadas pelo próprio museu, para qualquer outro visitante acessá-la através do site ou do aplicativo que o museu oferece, esteja ele em casa ou no próprio museu. É o único museu online que dá aos visitantes um papel de co-curador de sua coleção. Outros dois museus, como o Pergamonmuseum, na Alemanha e o Museu do Prado, permitem que os visitantes criem uma seleção pessoal de obras, porém sem compartilhá-las com outros visitantes.
6 Considerações finais: um olhar adiante
De forma geral, nenhum ramo de atividade estava devidamente preparado para lidar com as consequências do isolamento social. Museus não esperavam que seus braços digitais fossem ter tamanho interesse e divulgação – ainda menos que fizessem a vez de suas dependências físicas. O que talvez adquirisse maior evidência em alguns anos, consequência da exponencial digitalização da sociedade, foi antecipado de forma abrupta com o esvaziamento do espaço público. Mas o que se viu foi um público que, privado de seu deslocamento físico e mesmo já imerso em um contexto digitalizado, não encontrou no universo museal online um espaço adequado para suprir seu interesse por conteúdo cultural de qualidade. Ainda assim, todas as experiências remotas que as instituições estão promovendo para se manter conectadas com seus públicos certamente trarão transformações que não serão dissipadas com o retorno da convivência presencial. Serão incorporadas, ressignificadas e farão parte de uma nova realidade. Muito já foi desenvolvido, e é a partir desta produção que surgirão novas reflexões e perspectivas. O processo de evolução das atividades online continuará em um movimento crescente.
Por um lado, esse desenvolvimento não deve ser interpretado como uma forma de substituição da experiência ao vivo. Devemos refletir em como eles podem complementar a experiência proposta nas galerias, sejam elas feitas de forma remota ou acessadas de dentro dos próprios espaços expositivos. É necessário pensar, por exemplo, em como potencializar o relacionamento entre museus e seus públicos, pautando-se em um contexto que pressuponha a personalização da narrativa, dos pontos de contato, da forma de apresentação das informações, entre tantas outras variáveis.
Por outro lado, fortalecer e desenvolver um ambiente digital não deve ser encarado como uma ação extraordinária, mas um instrumento a mais – necessário – no processo de democratização do acesso ao patrimônio cultural. Dispor conteúdo para acesso remoto não é concorrer com seu espaço físico pelo interesse de um possível visitante, mas se comunicar com todas as inúmeras pessoas que, por diferentes razões, não se configuram como público potencial para uma visita física. Para tanto, é preciso refletir sobre a forma com a qual os museus irão se relacionar com estes públicos e como aproveitarão das características do universo digital para atingir este objetivo.
Referências
BEYER, A. Between academic and exhibition practice: the case of renaissance studies. In: HAXTHAUSEN, C. W. (Ed.) The two art histories: the museum and the university. Williamstown, Mass.: Sterling and Francine Clark Art Institute, 2002. p. 25-31.
BOLTER, J. D.; GRUSIN, R. Remediation: understanding new media. Cambridge, Mass.: MIT Press, 2000.
CARRIER, D. Art Museum Narratives. In: Museum skepticism: a history of the display of art in public galleries. Durham: Duke University Press Books, 2006. p. 91-109.
CHAGAS, M. Linguagens, tecnologias e processos museológicos. Texto apresentado no Curso de Especialização em Museologia do Museu de Arqueologia e Etnologia, Universidade de São Paulo, 2001. (mimeo).
KOPTCKE, L. S. Bárbaros, escravos e civilizados: o público dos museus no Brasil. Revista do Patrimônio Histórico e Artístico Nacional, Brasília, DF, n. 31, p. 185-205, 2005.
MANOVICH, L. The language of new media. Cambridge, Mass.: MIT Press, 2001.
MUSEU DE ARTE DE SÃO PAULO. 2018. Acervo em transformação. (online) Disponível em: https://masp.org.br/exposicoes/acervo-em-transformacao-2020 . Acesso em: 25 jul. 2020.
SCHMILCHUK, G. Públicos de museos, agentes de consumo y sujetos de experiencia. Alteridades, v. 22, n. 44, p. 23-40, jul./dic. 2012.
SEROTA, N. The 21st-century Tate is a commonwealth of ideas. The Art Newspaper, n. 5 jan. 2016. Disponível em: https://www.theartnewspaper.com/comment/the-21st-century-tate-is-a-commonwealth-of-ideas . Acesso em: 25 jul. 2020.
WAGENSBERG, J. The "total" museum, a tool for social change . História, Ciências, Saúde – Manguinhos, v. 12 , p. 309-321, Rio de Janeiro, 2005. Suplemento.
YALOWITZ, S. S.; BRONNENKANT, K. Timing and tracking: unlocking visitor behavior. Visitor Studies, v. 12, n. 1, p. 47-64, 2009.